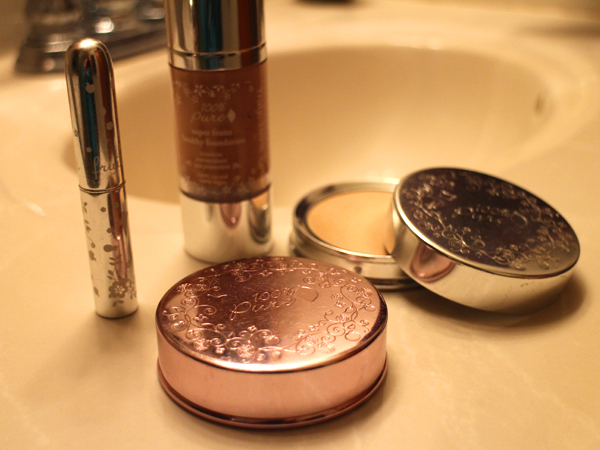 If you've ever wondered if those kale-crazed vegans are using berries for lipstick and avocados for moisturizers, well, you might be onto something!
One cosmetics company that makes several repeat performances in my vegan makeup bag is 100 Percent Pure.  100% Pure is a vegetarian company based out of the Bay Area that never tests on animals.  (All of their products are vegan, except for those that use honey.)  With no artificial colors or fragrances, the ingredients are things like pomegranate, avocado butter, and flaxseed oil.  In terms of preservatives, you'll find natural ingredients like thyme, oregano, or Japanese Honeysuckle.
After using their cosmetics for many years, four vegan products from their line that I'm going to share with you today are 100% Pure foundation, powder, blush, and lip glaze.
Super Fruits Healthy Foundation:  This foundation goes on smooth.  It doesn't offer a ton of coverage, but for a natural daytime look, it evens skin tone without drawing attention to itself.  Although there's always a worry when switching cosmetics that breakouts may be an issue, this foundation has never given me a problem.
Healthy Flawless Skin Foundation Powder: To finish the foundation, I use this lightweight powder.  I find that during the winter months, powder isn't really necessary.  However, during the summer when sweat is an issue, it's helpful for keeping a fixed look.
Fruit Pigmented Strawberry Blush:  I am currently wearing this blush in the shade of Strawberry, and the top ingredients are fruit pigments of blackberry, pomegranate, cranberry, raspberry, strawberry, and cherry.  The blush has a bit of shimmer to it and doesn't go on too dark.  The color won't last all day, however.  It does require some re-application.
Fruit Pigmented Lip Glaze:  This lip glaze is creamier than a typical lipstick but not as sticky as a gloss.  It's made with cocoa butter and avocado butter for moisturizing. It gives a natural color that doesn't look painted on.  Because of this, it does require reapplication throughout the day.  (One small issue: I have been using this product for many years, and it feels like it has been reformulated.  It's just not quite as emollient as it used to be.)
100% Pure products can be purchased through their website, 100percentpure.com, or at one of their six brick and mortar locations in California.
Image Credit:  Photos by Cadry Nelson