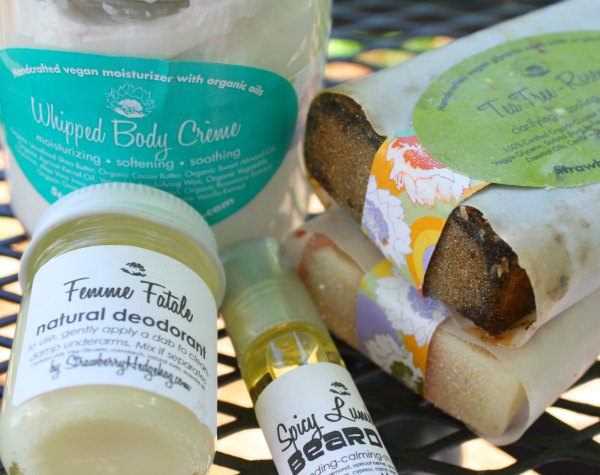 Tracy Perkins at Strawberry Hedgehog makes plant-based lotions, soaps, and deodorants that smell great and work wonderfully. Check out our review of her vegan beauty products!
Disclosure: Tracy is an old friend of mine, and I was a fan of her products before she and I became friends. She sent me a box of Strawberry Hedgehog products to try. All opinions are 100% my own.
This isn't my first time trying Strawberry Hedgehog products by any means, so Tracy sent me one of her "greatest hits" and a stack of new-to-me goodies to test out. My box contained:
1 jar of Whipped Body Creme
1 bar of Tea Tree-Rosemary Soap
1 bar of Ginger-Peach Soap
1/2 bar of Come on Get Hoppy Soap (Not pictured, because I accidentally used it all before taking any photos. Oops!)
1 jar Femme Fatale Natural Deodorant
1 vial Spicy Lumberjack Beard Oil
My bathroom smells amazing just from having these products out on the counter and in the shower! Tracy uses only all natural essential oils to scent her soaps. No toxic fragrance here! Her soaps are also free from animal products and not tested on animals.
The other thing that I love about Strawberry Hedgehog products is that she doesn't use any plastic packaging. The soaps come wrapped in natural wax paper, and the creams all come in reusable glass containers.
Strawberry Hedgehog Vegan Soaps
I tested out all of the soaps, and the Come on Get Hoppy was my favorite! I tend to prefer spicy, and this soap delivered! The Come on Get Hoppy is part of Tracy's Soap Club, a soap-of-the-month situation.
If you have trouble waking up in the mornings, I'd suggest the Tea Tree-Rosemary soap. This is a tingly bar of refreshment, you guys. I dare you to use it in your shower and still feel groggy afterwards. Who needs coffee, right?
Do you prefer fruity scents? The Ginger-Peach will be right up your alley! It's got a lovely sweet smell.
Whipped Body Creme
I mentioned before that I've tried the Whipped Body Creme before, and I've actually reviewed it here before. This is my favorite lotion ever, you guys. It's rich and creamy without feeling oily. Unlike most of the commercial lotions I've tried, it doesn't have a strong scent, which I really appreciate.
Deodorant
Because the Femme Fatale deodorant doesn't contain chemical emulsifiers, it separates in between uses. Tracy includes a little wooden paddle that you use to mix it up before applying. To apply, just massage a teeny bit into each pit.
The deodorant has a spicy, woodsy scent that I loved. So many products aimed at ladies smell sweet and fruity, and this deodorant bucks that trend completely.
Beard Oil
I didn't even realize that beard oil was a thing until I opened my package of vegan beauty products. When my husband saw it, he said, "Ooh! Beard oil!" Well, what do I know?
He actually wasn't crazy about this product, and I think that's because he's not into strong scents in general when it comes to his own beauty products. This beard oil is mix of earthy patchouli, woody cypress, and some spicy scents.
Since Dave isn't using it on his beard, I've been using it as perfume, and I love it! The roll-on applicator is perfect for applying a bit to my wrists in the morning.