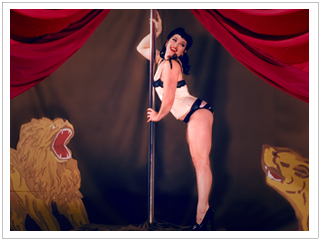 Urban Fox has created sexy, sustainable, fun and funky eco-friendly lingerie made right here in the USA by two Midwest designers. This line up of vintage inspired styles is made from bamboo, silk and organic cotton.
The creators and co-owners of Urban Fox are creatively green individuals. Both designers are self-taught seamstresses as well as being involved in many other artistic endeavors.
Lizzie Cook is from my hometown of Flint, Michigan though she currently resides in Chicago and Megan Power is from St. Louis Missouri. They met on a movie set in St. Louis in 2006 and became fast friends due to so many common interests. Even though they live five hours and many miles apart they launched Urban Fox in 2007.
Lizzie and Megan design all the pieces and print and dye the fabrics. The results are a sexy urban chic lingerie line that is sustainable and totally adorable. I love that the designs have a bit of vintage flair while being totally modern and eco-stylish.
Lizzie and Megan launched Urban Fox on Etsy where they started selling the handmade lingerie but as demand grew so did the company. Urban Fox officially launched their boutique line of eco-lingerie in the Fall of 2008 and plan to be in stores nationwide soon. If you don't want to wait for these bamboo undies to show up in a store near you, you can always order at their online store www.urbanfoxeco.com