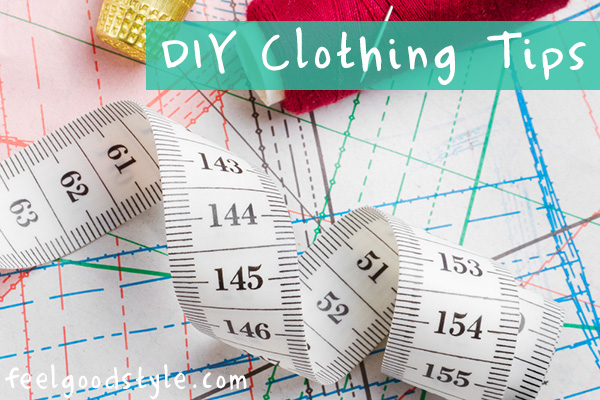 Have you been wanting to try making some of your own clothes but were a little intimidated? I hear ya! Sewing a tote bag is one thing, but following a pattern or fitting a dress is a whole different ballgame. Making your own clothes can seem a little bit scary at first, and the tips below all have helped me get over the hump and dive into a (partially) handmade wardrobe!
Tips for Making Your Own Clothes
1. You don't have to start from scratch.
If constructing a dress seems overwhelming, then don't start there. Hit the thrift store or yard sales and look for garments that you can make your own with simple alterations. One of my favorite summer tops is a vintage mumu that I shortened to a tunic length.
2. Choose eco-friendly fabrics.
Over at our sister site, Crafting a Green World, I write a Fab Fabrics series where I feature all manner of sustainable fabrics, from great vintage sellers to beautiful organics.
3. Start simple
When you're first getting started, go for simple projects. One of the first garments I ever made was this super easy elastic waist skirt (pictured above). It came together in under an hour and made me a lot less nervous about making clothes and wearing the clothes that I make.
4. Research!
If you're having trouble fitting part of a pattern or get stuck on what something means, don't be afraid to google it. For example, I ran across this handy tutorial for adjusting the bust on a pattern to fit a smaller or larger cup size. YouTube is a great resource for alterations. Whether you're hemming or taking in thrift store pants or trying to sew an invisible zipper, with a little searching you can usually find one or two good video tutorials to walk you through it.
5. Don't be afraid to screw up.
If you're new to sewing your own clothes, start out with less expensive fabric. That way, if your first attempt is an epic fail, you won't be so bummed. And if it turns out great, your second pass on that beautiful vintage yardage will look amazing!
Do any of you ladies make your own clothes? I'd love to hear your favorite tips and resources in the comments!
Image Credits: Sewing image via Shutterstock; Skirt photo by Becky Striepe