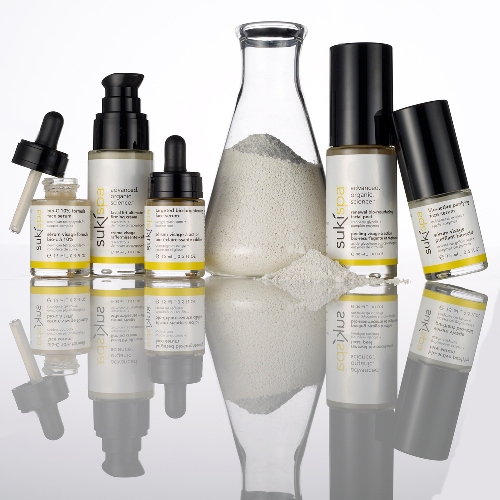 As if to outdo themselves, the already fabulous Suki skincare line has just turned it up a notch.  Launched at ISPA this past weekend and online today, the brand-new bioengineered cosmeceutical grade skin prescriptions "spa line" boasts the culmination of breakthrough scientific advancements with pure organic botanicals, creating a high-powered line of potent & pure skin care.  After years of research & development, Suki Kramer continues to challenge industry standards of purity and efficacy.  Designed to target some of the most stubborn of skin issues with high doses of cutting edge actives, this line will combine the same philosophy of suki advanced. organic. science.™ with even more advanced cutting edge ingredients.  The six new sukispa™ products include:
1). Renewal Bio-resurfacing Facial Peel: with active ingredients of cranberry glycolic + pumpkin enzymes.  An antioxidant rich AHA/BHA organic peel for all skin types. $75
2). Targeted Bio-Brightening Face Serum: with active ingredients of songyl mushroom + licorice root.  A high potency complexion evening serum lightens hyperpigmentation, spots, scars, rosacea for all skin types. $75
3). Bio-Active Purifying Face Serum: with active ingredients of goldenseal extract + apple enzymes.  A high potency anti-acne serum for oily and blemished skin. $75
4). Bio-C 10% Formula Face Serum: with active ingredients of tetrapeptide-9 and copper complex.  A high potency super-antioxidant anti-wrinkle serum for most skin types, especially mature. $80
5). Facial Lift Ultimate Facial Cream: with active ingredients of resveratrol + tetrapeptide-9.  "The" moisturizer with the highest potency Vitamin C in the most absorbable blend of hydrating, anti-wrinkle, collagen-building ingredients for normal, mature & dry skin types.  $150
6). Regenerating Antioxidant Masque: with active ingredients of 85% grape polyphenols + mangosteen extract.  A Vitamin C masque with rich, high potency sources of polyphenols and antioxidants.  For all skin types especially mature, dry and combination.  *Professional Use Only* 
The new line is available now online and will be offered only in upscale boutique and spas. 
******
May 2009 Update: Though the entire Suki skin care product line bears the ECOCERT certification seal/logo on their labels and boxes, according to ECOCERT, none of the products have ever been certified by them.