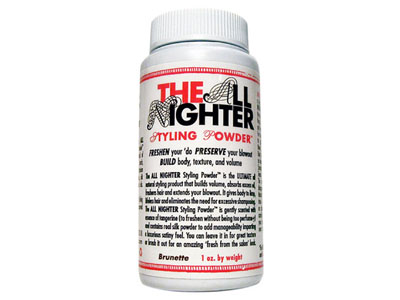 The All-Nighter Styling Powder will freshen your do, preserve your blowout, and build body and texture all while absorbing excess oil and eliminating the need for over-shampooing.
Available in six color-matched options for all hair shades, The All-Nighter contains real silk powder, no talc, no aluminum, no silica and absolutely no synthetics of any kind. Unlike talc, which can be drying & chalky, The All-Nighter contains 100% natural ingredients such as rice starch and tapioca in a microfine formulation, that adds manageability while imparting a luxurious, satiny feel to hair.

For nights on the town and the morning after, this is a must-have addition to the beauty arsenal of all savvy ecoista – not least for the party circuit coming up – but mostly because you're saving yourself some money (less salon visits), helping the planet (less shampooing), and you look fabulous doing it.
A word of caution, if you're using the darker shades, make sure you're not wearing a nice white T-shirt to apply. Other than that; Scrunch. Zhuzh. Fluff. Toss. Tease. And prepare to be amazed.
Writer :: Emma Pezzack – www.futurenatural.com: the best organic beauty products in the world.