It was 1997 when Splaff Flopps joined the green wave, — and in more ways than one! El Presidente Cliff Drill and El Ambassador Craig Wallace got creative in a garage. Their materials and tools were a tire, a bike tube, and a shoe knife. Indeed they had a vision. The goal was to make durable, comfortable and reasonably-priced sandals from recycled materials.
Their vision of sustain ability for our planet and the human race is honest. These guys collect, sort, cut, and clean the recycled tires and bicycle inner tubes themselves. That guarantees the quality of their recycled materials.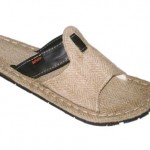 The garage and entrepreneurs moved to Baja, California where they hand craft Splaff Flopps today. Recycled car tires are converted to soles; used bicycle inner tubes are made into straps; hemp fabric is in the foot beds, covers the straps; and the mid sole is made from Regupol®. That's a brand name for a cushioned material developed from used tires. All this spells waste-free production!
Why sufer-tested? That's because the Splaff Flopps are actually field tested by surfers. The surfers literally live in their flops and typically nothing else on their feet. So add strong and comfortable to describe these functional styles. They offer a six month guarantee with respect for our environment. Better than a few testimonies; huh?
El Presidente Cliff happens to be the designer also, but he's a bit modest about it. Check out the style options for in or out of the water and see if you're compelled to nominate Cliff for Splaff Flopps as the Best Sustainable Footwear Designer in the Chic Eco contest poll. Reminder: competition deadline is before June 1st.
RELATED POSTS: