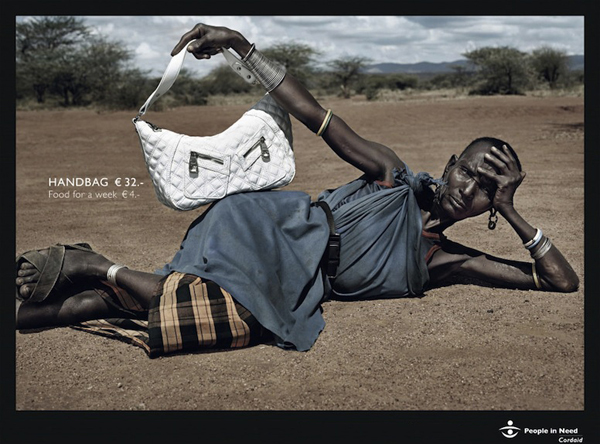 The Dutch organization Cordaid teamed up with advertising firm Saatchi & Saatchi to do a very different sort of product shoot. Instead of featuring impossibly thin supermodels, this campaign is all about real women in developing and conflict-ridden countries modeling fake products to show the contrast between Western value and what's really important.
For the cost of an expensive purse or designer sunglasses, we could be making a real difference for people in need all over the world, and these photos are a powerful reminder that our sense of what we need is very skewed compared to the millions of people worldwide who are struggling just to put food on the table or make sure their families have enough water to drink and bathe.
Cordaid works in conflict-ridden and poverty-stricken communities all over the world to help people in these areas live a better life. If you want to help support their mission, you can find donation information on their website. You can also check out more photos from this shoot at Upworthy.