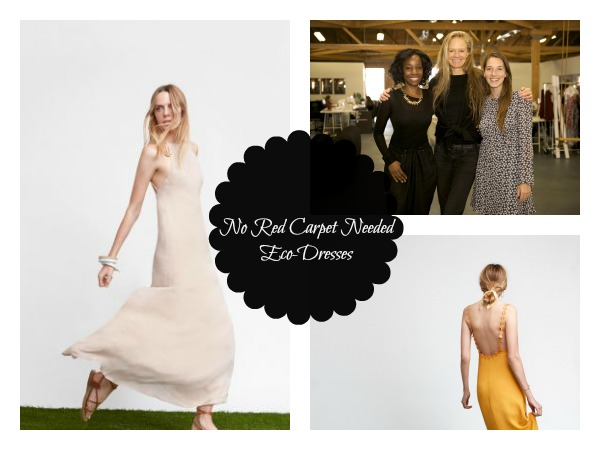 At our house, the Academy Awards broadcast is like a little holiday.  We do it up with themed food, delicious beverages, and ballots ballots everywhere.  What I do not do is don a fancy dress and walk about in heels.  The appeal of the Awards is that I get to enjoy them comfortably (and warmly) from the sanctity of my living room.  But, if one were inclined to put on something flowing and gorgeous for the Academy Awards, or for the workday or for any old occasion really, then the No Red Carpet Needed line of eco-dresses might just be for you.
Read more here and here for our past eco-Oscar coverage.
Red Carpet Green Dress, founded by Suzy Amis Cameron (or as you know her, James' better half) is a dress design competition, now in its sixth year, wherein competitors must design a red carpet-worthy dress using "environmentally and socially responsible fabrics."  This year, Suzy is in cahoots with Reformation and together they have launched the "No Red Carpet Needed" line of dresses, available for prices as responsible as their practices.
No Red Carpet Needed is a line of reasonably-priced dresses that can, feasibly, go from day-to evening-appropriate.  Reformation produces their clothing from sustainable materials, re-purposed vintage clothing, or "rescued" fabric from over-ordering fashion houses.  Their L.A. offices and factory are green and, because their offices and factory are connected, they have total control over their employees.  Employees at Reformation are paid fairly, are benefited, and are, allegedly, given access to basketball hoops and ping-pong tables.  Take the factory tour for more information.
No Red Carpet Needed dresses are available online and in-house and 25% of sales go to Amis' MUSE School CA in Calabasas, California.  MUSE School CA is a non-profit which is committed to "inspiring and preparing young people to live consciously with themselves, one another and the planet."
Shop Reformation here.