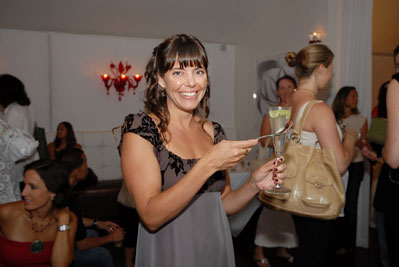 In the short time since she has launched the haute green newsletter and site, EcoStiletto, which encourages all the ladies to stiletto-size their carbon footprint from an Ugg Boot to a tiny Manolo, Rachel Sarnoff has made a huge impact of her own.
I got a chance to get the scoop on her inspiration and objectives and couldn't wait to share them with the FGS readers. Keep reading to hear about her Fashion Week eco-find and what gets her going to inspire other green fashion mavens.
What inspired you to launch EcoStiletto?
People are always amazed that the stuff I wear or use is eco-friendly. It's always like, "Wait, that mascara doesn't have any chemicals? And it stays on? How is that possible?" And I realized pretty quickly that if my friends were amazed at all this green fashion and beauty stuff that worked, other people might be too. So really that's the idea behind the site. I really feel like I'm talking to my friends, just sharing the stuff I've found that makes my life a little greener–without sacrificing style!
What has been your biggest challenge in trying to live a greener lifestyle?
I'm not an all or nothing kind of girl. I really believe that every day you're faced with millions of decisions to make and you can make the best choice in every case–but it has to be the best choice for you. So when I'm buying food for my family, it's a no-brainer to me to buy organic as much as I can. But my kids aren't necessarily on the same boat. They don't always understand the rationale behind my choices. So I spend a lot of time explaining things to them, but at the end of the day I'm not going to run my household like some kind of eco prison camp. They eat candy on occasion! When we go out, chances are they'll order a non-organic hamburger, as much as it makes me wince. I can't live in a green bubble. But I do the best that I can.
Who has been your biggest inspiration?
Christopher Gavigan of Healthy Child, Healthy World totally opened my eyes to a lot of this stuff. I'd been pretty green in general, just because of the way that I'd been raised, but Christopher really showed me the science behind it. He's working tirelessly for children's environmental health because he truly believes that if we don't change the way we live, our children won't have a safe world to live in. I completely agree with him, 100%.
Side note: I love the team over at Healthy Child Healthy World ; there is a  Green Halloween BBQ in the LA area to support them this weekend. They are a great organization – visit their web site or come out this weekend and bring $5 or an old phone/ipod to Flipswap.


What is your favorite eco-indulgence? Non-eco?
Oh I am so in love with all the designers I discovered at Fashion Week this year, but especially Leila Hafzi. You can't get her designs stateside yet, but I am seriously saving my pennies now. She works in cruelty-free silk, the designs are all hand-painted, and they are simply the most beautiful dresses I have ever seen–eco or no.
Non-eco would have to be In-N-Out double double protein style. Rarely. But oh so worth the indulgence.

If your reader's could take one thing away from EcoStiletto, what would you want that to be?
I really, truly believe that we vote with our wallets. So yes it's about changing our behaviors so that we consume less and reuse more. But it's also understanding that when we do buy, we should buy sustainable. Not just because it's healthier for us, but because by doing so we support manufacturers who are trying to change the way our world works–for the better.
Sign up for their newsletter (admittedly, my weekly guilt-free pleasure), check out the candid and very funny exclusive video of Josie Maran of Josie Maran cosmetics and Rachel in an cry-off and peruse their new events and kids section of the site.