[social_buttons]
As a young girl, I was in love with Nancy Drew. Being inspired in sixth grade by Nancy's sleuth skills I wrote my own mystery (starring myself) and called it, "The Mystery of the Purple Polka Dot Pajamas." Lizz Wasserman, owner/designer of popomomo, herself inspired, created a fall fashion line with Miss Drew in mind. For some reason, and please correct me if I'm wrong, I think popomomo's fall line will kick my sixth grade book's buttocks.
I know, you're thinking, "Purple Pajamas? Emily, you're crazy, you may just win the 'Coolest Nancy Drew Inspired Art Brilliance Award' instead of popomomo." Let me explain further. Not only was Lizz inspired by Nancy Drew, but L.A. Noir Film. For all you film junkies you'll agree when I say "best of both worlds," right? Peter Shanel, writer and film director, teamed up with popomomo, using Nancy Drew and L.A. Film Noir, to create an amazing short film showcasing the fall line.
[vimeo id=3797244]
The clothing in the film includes Mystery of the Hidden Pockets Shirt, The Date with Ned Dress and The Sleuthing Dress. Made from organic and/or sustainable fabrics, low impact dyes and locally made in L.A., Lizz has her eco-production techniques covered.
I try to make sure that popomomo is almost paperless, and that the line is tight: not too many pieces, and never trendy. If H&M were 'green' it would still be wasteful. There's a lot that goes into a green company, and I feel like I have to keep constantly learning more to try to continue being as positive a company as we can be. -Lizz Wasserman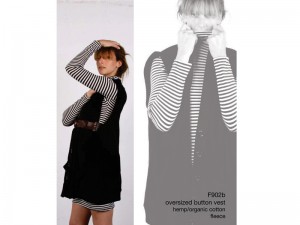 Lizz, a Milwaukee veteran, has been designing since she was little. In 2002, she began designing for Urban Outfitter's and Free People. At this time popomomo was merely a hobby where her creativity was allowed to run wild. Now, popomomo is a two-season collection. And, no suprise, it was nominated for New Garde L.A. Gen Arts Award in 2008 and was selected to be a part of the first Gen Art/Soyjoy natural (fashion) show which kicked off L.A.'s fashion week in October 2008.
Trusty flashlight? Check. Handy magnifying glass? Check. Popomomo rockin' my green world? Check.
Images Credit: Whitney Hubbs
Video Credit: Peter Shanel, Brian Outland, Armando Ballesteros, Eugene Wasserman, Lauren Tauman and Sarah Tauman