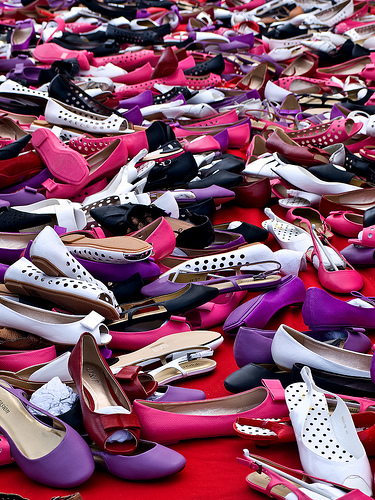 The Nothing New Challenge continues with transforming thrifted shoes using some simple DIY shoe techniques!
Finding the right size and fit can be challenging enough, but shoe style and wear vary greatly in thrift stores. Often there are pairs that are structurally sound and practically brand new, but it isn't quite the right style. Shoes are as easily DIY-able as anything else in your thrifted wardrobe! Don't pass over a pair that isn't quite right; sometimes all they need are a little DIY spin.
Here are four tutorials showcasing just a few of the different ways that you can take a pair of second hand shoes and give them new life!

1. Glitter Flats
Flats are typically in abundance at thrift stores and this tutorial, from We Are Not Martha, shows you how to add some serious pizzaz with glitter!
Adding a little extra sparkle to your outfit takes it from plain to pop in an instant. Any color flat will work for this tutorial and you can try a variety of colors of glitter in combination with different flats for an unlimited number of looks. Try masking off different patterns and designs in your flats if you don't want to rock a fully glittered shoe; even just glittering the toe will add an awesome touch.

2. Painted Wedge Sandal
Wedges are a great sandal for summer. They're a little bit fancier than a plain flip-flop yet they're casual enough to wear anywhere. If you have some artistic talent, you can transform any plain pair of thrifted wedges into a one of a kind pair!
Alisa Burke shows us how she transformed a brown pair of wedges with a painted floral motif. If you aren't too confident in your artistic skills, you can easily use stencils to create a look that's all your own. Simple patterns, like dots and stripes, would also work really well on a pair of wedges!

3. Painted Neon Heels
Neon paired with a neutral tones is a red hot look for summer, but trendy looks in department stores usually equals a big price tag! Instead, snag a pair of simple neutral heels from the thrift store and add your own neon touch.
Love Maegan shows us how to transform a pair of simple nude heels with neon nail polish.  The shoe and color combination for this is endless; you can have every color neon in your closet for a fraction of the cost!

4. Wrapped Sandals
If you're like me, you live in flip-flops in the summer. Sometimes, though, it's nice to have the comfort of a flip-flop with a dressier look.
This tutorial, from Anne Kata, shows us how to take a simple pair of thrifted sandals and turn them into pretty wrapped ones. I love the use of the recycled fabric and the tie detail around the ankle. They seem to have the same comfort level we all love in a flip-flop but they are definitely prettier. The simplicity of this project allows you to create a different pair for every day of the week!
Have you ever worked your DIY magic on a pair of shoes? Are you going to try any of these for summer? I'd love to hear about how you transform plain thrifted items into one-of-a-kind pieces! Feel free to leave any comments, questions, or links.
[Shoes image by Gerry Balding via Flickr Creative Commons, Glitter flats image via We Are Not Martha, Painted wedges image via Alisa Burke, Painted heels image via Love Maegan, Wrapped sandals image via Anne Kata]