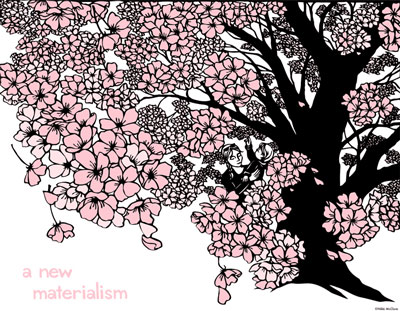 Above is an inspirational poster print of a paper-cut by Nikki McClure called A New Materialism. Her imaginative creations are the sort that inspire that loving, fuzzy feeling inside. For some time now Nikki has been featuring powerful, yet warm and thoughtful images of every day life, each with a strong verb or phrase that inspires action.
Check out all of her works, for a little boost of love, not only for nature but for humanity as a whole. It's amazing how motivating just a few words with an image can be. Her works of art excite our imagination on how to make this world a better place for all.

"Nikki used only an X-acto knife, and cuts out her images from a single sheet of black construction paper –– creating a bold language that translates the complex poetry of motherhood, nature, and activism into a simple and endearing picture."
Printed with vegetable-based inks on 100% Recycled Paper.
Image Credit.