We all want that shiny, bouncy, voluminous hair that we see in those shampoo commercials.
What we don't want is the nasty results shampoo leaves after the cameras are turned off. Traditional shampoo can get a bad rep for leaving gunky build-up in your scalp or leaving your hair flat and dry.
Beyond that, traditional shampoo brands have a nasty habit of putting unnecessary chemicals and toxins in their formulas, and some are known for testing on animals. And don't even get me started on how bad the packaging and shampoo itself can be on the environment!
If you've been thinking about switching to a more natural shampoo option, check out this list first. Find the brand and product that's right for you, from selection of the best natural brands out there.
Acure
With every product free of gluten, parabens, sulfates, and artificial colors, you can bet that Acure is focused on getting back to basics with their skin and hair products. While they do have a wide variety of products, the shampoo itself comes in a few varieties, all specialized for whatever you need out of a shampoo.
https://www.instagram.com/p/7X2d37yI3z/?taken-by=acureorganics
Made with essential oils and natural, plant-based ingredients, you'll know that these products are good for the environment, and of course, your hair!
Personally, I've tried both the hydrating and clarifying products, and have loved both. I like to buy a bottle of clarifying shampoo, use all of it, and then switch to the hydrating shampoo.
I have a dry, oily scalp, so I find that the clarifying shampoo helps to reduce the grease, and the hydrating shampoo works to eliminate the dryer parts.
And I haven't even mentioned the smell! Acure products smell absolutely amazing. Not that the fragrance is the most important part, but it certainly helps. Even better, the scents are natural, nothing is artificial or overly smelly. The clarifying shampoo is in my shower at the moment, and I can still remember the lemongrass scent as we speak!
Buy It On Amazon: Acure Clarifying Shampoo ($6.98)
Buy It On Amazon: Ultra-Hydrating Shampoo ($7.99)
Buy It On Amazon: Acure Volume Shampoo ($7.99)
Buy It On Amazon: Acure Straightening Shampoo & Conditioner
JĀSÖN
JĀSÖN is another company that makes everything natural body care. Lotion, face wash, soap, moisturizer, deodorant, toothpaste, and of course, hair care! I first discovered JĀSÖN when I was doing grocery shopping towards the end of a paycheck—we all know how that goes.
I went to the organics section at my neighborhood grocery store to see if there were any deals, and low and behold the shampoo and conditioner were on sale—buy one get one free. I took a chance on an unknown brand and I was thoroughly impressed!
JĀSÖN is a good choice for the environment, too! The company got its start in the 50's when the founders noticed that all the big, corporate brands were starting to mix in dangerous chemicals to get perfume-y body care products.
JĀSÖN was founded on the idea that we can use natural ingredients to produce even better results. With ingredients like apricot oil, wheat protein, aloe vera, vitamin E, peppermint oil, and bamboo powder, JĀSÖN has made a name for itself in the natural body care industry!
My personal favorite of the JĀSÖN shampoos is the super shine apricot. It smells absolutely delicious and it really does bring a ton of shine to your hair. I have dirty blonde hair, and it can be tough to find a shampoo that actually makes my hair shine. The color can be kind of dull, so any shampoo that does the trick is worth trying!
Aside from my own personal bias, there's plenty of other shampoos that are worth giving a try. The tea tree is a great option for those with dry scalps, and the scent is a minty, wonderful experience. The lavender shampoo is great for getting that widely sought after voluminous mane with a great scent. Is fragrance not your thing? No problem! JĀSÖN has a fragrance free option in not only their shampoo but most all of their products.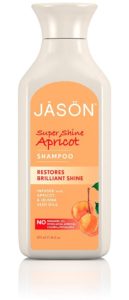 Buy It On Amazon: JĀSÖN Super Shine Apricot Shampoo ($6.99)
Buy It On Amazon: JĀSÖN Tea Tree ($8.50)
Buy It On Amazon: JĀSÖN Lavender ($13.39)
Buy It On Amazon: JĀSÖN Restorative Biotin Shampoo & Conditioner ($16.99)
Buy It On Amazon: JĀSÖN Fragrance-Free ($12.99)
Avalon Organics
I've got a long history with Avalon. After all, it was the first natural body care brand I ever bought from! That first product was the clarifying lemon shampoo. It had been a long, cold winter and my poor hair was so dull and dying for some shine. I bought both the shampoo and conditioner, and it worked like a charm. And there's nothing quite like some fresh lemon to wake you up in the morning!
Since then, I have had tried both their face wash and moisturizer, as well as the lavender and tea tree shampoo.
The lavender was a good everyday shampoo; good scent, moisturizing, and brought shine to my hair. The scalp treatment tea tree, however, I would limit to a once-a-week thing. The scent is really strong and certainly does work on those dry spots. So much so, that using it more than once a week is probably overkill.
The tea tree was a little harsh on my scalp, but that could just be me. Always give it a shot, after all, we all have different skin that reacts better or worse to different products.
Avalon prides itself on being environmentally-friendly and is NSF/ANSI 305 standard, USDA organic certified on select products, and cruelty-free. Avalon is also vegan-friendly and made of all natural ingredients.
Buy It On Amazon: Avalon Organics Clarifying Lemon Shampoo ($13.99 – Pack Of 2)
Buy It On Amazon: Avalon Organics Scalp Treatment Tea Tree Shampoo ($13.98 – Pack Of 2)
Buy It On Amazon: Avalon Organics Lavender Shampoo ($6.27)
Andalou Naturals
While I haven't had the opportunity to try their shampoo, I've used their creamy face wash for a while with really great results. The company is non-GMO project verified, as well as being gluten-free, vegetarian, vegan, and cruelty-free.
What else could you want in a natural shampoo?! Andalou Naturals also uses Fruit Stem Cell Science in all of their products, to promote an antioxidant defense on your skin and hair.
The argan oil and shea shampoo is perfect for dry, wavy, or curly hair. Moisturizing and sulfate-free, this is a good pick for those with colored hair that would like to hold onto that color for months to come.
Sunflower and citrus, if anything, is just a really desirable scent! Lucky for us, it's so much more than that! This shampoo promotes shiny hair and a reduction in those pesky split ends.
Buy It On Amazon: Argan Oil & Shea Shampoo ($7.99)
Buy It On Amazon: Sunflower and Citrus Shampoo ($10.99)
Alba Botanica
Alba Botanica products are more than just their pretty, floral, colorful packaging. While chances are that's what caught your eye in the first place, these products are cruelty-free, vegetarian, and made of a biodegradable material. Not only that, but the company supports coral reef safety and supports the cause to eliminate microbeads from our water.
Alba offers face, skin, hair, and sun protectant products. I've personally tried just about every category they offer, and my favorite products have been their shampoo, body wash, and sunscreen. The scents remind you of the tropics and the moisture-rich soaps and shampoos feel great.
Body builder mango is a great product for getting some more volume in your hair without a ton of gunky shampoo build-up. The mango scent certainly isn't something to complain about either!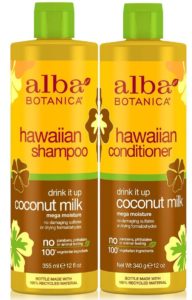 Buy It On Amazon: Coconut Milk Shampoo ($13.49 – Pack Of 2)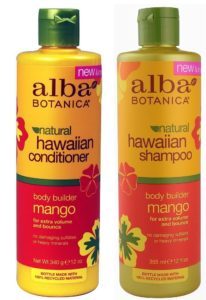 Buy It On Amazon: Body Builder Mango Shampoo & Conditioner ($16.89)
Dr. Bronner's 32 In 1
If you're interested in castille soap as an alternative to traditional shampoo, Dr. Bronner's 32 in 1 is calling your name. I have used Dr. Bronner's as a body wash exclusively for around a year, and I doubt I'll ever switch to another brand. The ingredient list is very limited, and are only the best of the best. The company adheres to the highest level of environmental consciousness, and they work tirelessly to advocate for fair wages and equal pay across the board.
If you want to buy from a company you can stand behind, Dr. Bronner's is it.
Alright now that you've heard my long-winded speech, let's talk product details. While the company doesn't offer a traditional shampoo, they do offer an Organic Hair Conditioning Rinse to go along with their 32 in 1 soap. The idea here is that you shampoo your hair with the castile soap, and then condition with their hair rinse.
I have only washed my hair with castile soap once, and honestly, it leaves your hair a little dry. Keep in mind though that I didn't use conditioner (I was camping), so the results are probably different with the conditioner rinse.
Also, keep in mind that there is a transition period from traditional shampoo to this method. It's not as easy of a transition as simply switching shampoos. Lucky for you, Dr. Bronner's has detailed the process on their website.
Buy It On Amazon: Dr. Bronner's Organic Hair Conditioning Rinse ($12.99)
LUSH
Any millennial, Instagram-obsessed blogger will tell you that Lush is a great company with great products. But should you believe all the hype? Yeah, you probably should. In addition to those crazy bath bombs you've seen all over social media, LUSH offers solid shampoo bars to keep your bath and body pile all stocked up.
Again, like Dr. Bronner's soap, Lush's shampoo offerings are not like their traditional shampoo counterparts. However, the process is a heck of a lot easier than castile soap. Just use the lush bar as you would bar soap, and lather your hair. Many lush followers mention that the solid shampoo gives their hair shine and volume, and of course that highly-recognizable, delectable Lush smell.
Buy It On Amazon: New Solid Shampoo ($21.94)
Buy It On Amazon: Jason And The Argon Oil Rose Jam Solid Shampoo ($21.28)