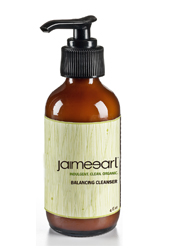 The balancing series by Jaimeearl is a life saver for those with oilier skin like mine. The Balancing Gel Cleanser ($35) is a rich-feeling cleanser that leaves skin feeling clean without over-drying it or leaving an oily residue. The company uses moisturizing blends that help lift impurities and get rid of oil slicks without stripping the skin (an action that can lead to an increase in production of oil.
The organic beauty products offered by this line all sound decadent and fabulous, but they are all backed by a sensible approach to selecting the right ingredients – even if it sounds counter-intuitive to moisturize oily skin – and made with organic ingredients.
Jaimeearl began in a home kitchen as mother and founder looked for gentle cleansing solutions for her daughter's sensitive skin. As word about the products traveled, the entrepreneurial mom and daughter duo developed a line available to everyone suffering from similar ailments and those seeking alternatives to the harsh chemicals that litter several drugstore brands.
As a perk, the products come packaged in reusable/recyclable glass bottles. The beauty boutique is now offering a 20% discount at checkout when you enter code HNY at jaimeearl.com. Use it as an opportunity to check out the luxuriant line.