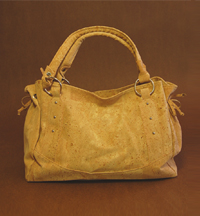 Cork production methods continuously change, yet harvesting practices remain. Such a fine example of merging cultural respect with new technologies is Corx. This is a company in Sonoma, California with production in Portugal. There they make a new material, cork fabric. The fabric is organic and renewable, with characteristics similar to leather.
Features are:
Durable and supple as leather
Silky-soft to the touch
Easy to clean
Stain and scratch resistant
Water resistant
Lightweight
Impervious to fading
Tolerant to extreme heat
Unique due to the nature of cork
Environmentally friendly
Versatile; they go with everything!
Wow, feels sensual just writing about it! In summary, Corx claims their eco-friendly fashion accessories are made without harming cork trees, animals, or the environment, ‒  in any way.
Sheets are made from thin strips of cork to create a fabric that is similar in many ways to leather. The sheets are then hand-sewn together to create the Corx bags. Each is made one at a time in small shops located throughout the cork-growing region of Portugal.
Expanko, Inc. is an environmental flooring company in Pennsylvania. From their site is a bit of cork history, explaining that the material has been an integral part of social and economic segments of many societies for over three thousand years. Uses are recorded as far back as 3000 B.C. when Chinese fishermen created cork floats. We all know by now how wonderful cork flooring is.
As pics here reveal, the Corx handbags and wallets look divine and luxurious. If cork fabric equates to such durable eco-style, I want to know what other goods consumers may expect?

CORK RELATED POSTS:
Famed Birkenstock Shoes Update
Yurt Living: Creative Flooring Suppliers