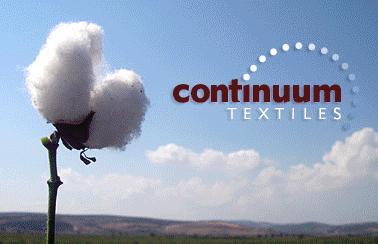 Continuum Textiles is a sales agency in Vancouver representing textiles and garments from environmentally responsible supply chains. Their partners have decades of experience in organic cotton, merino wool and the textile business.
i-merino is about three years old, but a recent discovery to many. It may be the most sustainable performance activewear fabric on the planet. i-merino is the brainchild of a fourth-generation merino wool grower and first-generation snow boarder, Australian cofounder Stuart Adams. As a devotee of numerous sport and physical activities, Stuart experienced first hand the superior performance characteristics and comfort of merino wool. Merino is a renewable resource where a new fleece grows on the sheep's back every year. The wool is obtained without harm to the animal. From farm to fabric, the process is fully tracked and certified, so you are guaranteed the wool passes stringent environmental, social and quality controls.
i-cotton, also promoted by Continuum, gives businesses and consumers the opportunity to choose products that support sustainable farming. i-cotton yarns and fabrics incorporate 5 percent organic cotton and 95 percent sustainably farmed cotton. While 5 percent may not seem like much, it can have a big impact. Companies that consume large volumes of cotton choose to blend 5 percent organic as a way to support the growth of organic farming while meeting their own price and supply needs. As more companies adopt this model, the total volume of organic cotton goes a long way.


Like icing on the cake, Continuum offers Meritton fabrics. This is a unique blend of i-merino and organic cotton. The Meritton fabric has a superb drape and handle, is machine washable and tumble dry-able. Most important, it captures the distinctive performance properties of two very popular natural fibers through certified farming systems. Voila, an environmentally positive material with great comfort!
Continuum Textiles displays exceptional teamwork because cofounders Stuart and Anne Gillespie work so closely with their supply chains and partners to ensure social, environmental and quality standards. All while developing innovative products.
Bravo! Isn't it nice to learn about a company that so admirably exceeds the goal of sales?
Related GO Posts:
Sustainable Designer Fabric Innovation
Fabulous Organic Cotton, Denim, and Calico from Fabrics Ltd (UK)
Fabulous Fabrics: Cotton By Tenfold Organic Textiles