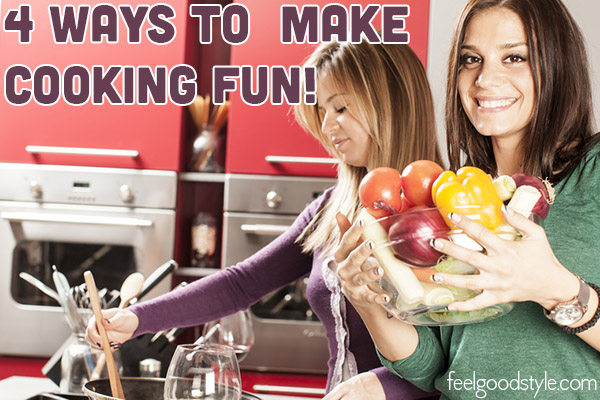 One of the keys to true beauty is taking care of yourself. Beauty starts from within, and that means protecting your health with wholesome food. Liz and I have both touched on this before. She issued a Feelgood Friday challenge, where she ate vegan for just a single weekend, and I've covered some foods that keep your skin looking beautiful and healthy.
Cooking at Home for Your Health
Over at our sister site – Eat Drink Better (a site that I edit) – we talk about the value of healthy food and share delicious, healthy recipes on the regular. We're all about health and treating your body right. I think that diet is something worth talking about on a beauty site, because what we eat can tie so closely into how we look and feel.
Restaurant and convenience food is just plain not good for your health most of the time. Both are often loaded with salt, refined sugar, and unhealthy saturated fats. On top of that, eating out or eating prepared foods can get very expensive. What I hear from a lot of folks who eat out or eat frozen meals a lot is that cooking is just not a lot of fun. Today, I wanted to look at a few ways to inject some fun into the kitchen, so you can prepare homecooked meals for your health!
1. Weekend Cooking
Who has time to cook? Feeling rushed in the kitchen is certainly no fun, and that' where weekend cooking comes in. Instead of throwing together a meal with whatever's in the pantry, set aside some time on a weekend (or your day off, if you don't work a regular schedule) to cook up some big batches of food. You can freeze up individual portions, so you'll have healthy, home-cooked meals ready when you're busy.
You can even make this a family affair or get friends involved! One afternoon that I still look back on fondly was when my friend Liz came over, and we cooked up a few huge dishes together. We gabbed, laughed, and listened to music, and at the end of the day we divvied up what we made.
Read more about weekend cooking here!
2. Get Social
I touched on this above, but making the kitchen a fun place to be is key to making cooking fun. If you're on a budget, that might just mean moving some things around. If you're ready to do a little kitchen overhaul, though, Fisher & Paykel has some beautiful kitchen appliances that can help make your kitchen a more social space. Check out their Social Kitchen to get some ideas of how you could revamp your kitchen!
3. Share your Efforts
Getting everyone together to cook isn't always doable, but you can still share your kitchen bounty. Adding purpose to your cooking like this makes your time in front of the stove more gratifying.
One example I like to talk about is the fall soup swap. Organize some friends to cook up big batches of soup, and everyone gets together at a shindig to share big mason jars full of different cozy soups. I wrote about how to organize a fall soup swap over at Care2. Check out that article, if you need some help with the logistics.
4. Try Something New
I know, we all get into cooking ruts sometimes, and often it just takes an interesting new recipe or tinkering with a new sort of cuisine to bust us out. If you feel like you're churning the same flavors out of your kitchen over and over, I can totally see finding cooking a chore instead of something you look forward to doing. Even something as simple as Mary's pickled mustard seeds recipe can break you out of the culinary doldrums.
Have you used any tricks to make your cooking more fun? I'd love to hear your tips in the comments!
Disclosure: This post was supported by Fisher & Paykel. All opinions are 100% mine.
Image Credit: Friends Cooking photo via Shutterstock