Have style, will travel: I ♥ Lumi Yoga Bags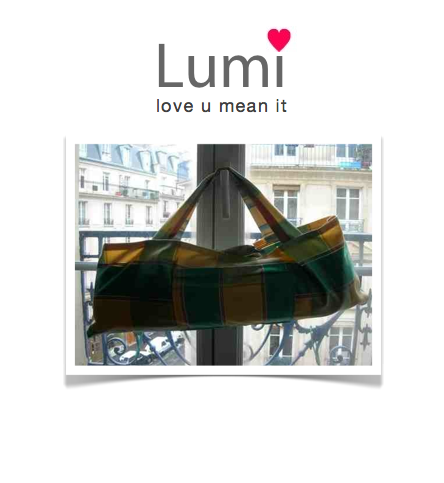 I used to have a yoga bag that I was pretty proud of. It was shaped like a hot dog, with a drawstring opening and a comfy shoulder strap and it made me look like a hunter with a bouquet of arrows on my back. The problem was, I couldn't find a darn thing in it. Everything sunk to the bottom- my sweatband, my wallet, my cherished tube of Kiehl's lip balm that has an eternal lifespan and still hasn't run out despite the fact I swiped it from a hotel room four years hence.
And then there was Lumi. Lumi stands for "Love you, mean it", and let me tell you, they really mean it. These courageously affordable bags are designed to help you carry things in style- including your better self. Each handmade bag comes with a cell phone pocket (but only if you promise to keep it on silent), a section for your water bottle and a homemade eye pillow coordinated with each bag.
Lumi's are green-made in Paris from leftover swaths of fabric from the creator's interior-decorating dad. (Are you feeling the love yet, or what?) Plus, toting your Lumi bag is a charitable act. 5 euros from every sale goes to benefit the Ãdhãra-Shakti collective: a grassroots organization that helps serious yoga students participate in yoga retreats at the divine YogAriege, even if they are seriously broke.
Don't live in France? Pas de problème! Chantal, the multitasking wunderkind behind the Lumi bags, will send you one by mail. The bags are 29 euros within Europe, and 37 dollars to the United States. Want something special? Ask for a custom order! Lumi loves you back. [social_buttons]
Photo credit: All photos used by permission by Chantal Tacoronte-Perez.