Green building is about healthy settings with visual appeal. The goal is to create rooms for physical, emotional, mental and spiritual benefits. That means avoiding things like airborne allergens, chemicals, and clutter.
Yet the study of indoor air pollution can get complex. Hence, no surprise of this month's announcement that the LEED accreditation system introduced by the U.S. Green Building Council was revamped.
The Green Building Certification Institute (GBCI) will work with selected third-party certification bodies in accordance with domestic and international standards to evaluate project submissions. Officials report that the overhaul of green building rating and certification practices into a new system will increase the rigor of professional accreditation processes.
Perhaps so, but we can simply live green with common sense meanwhile. The problem I see with these complex certification systems is that they attempt to develop standards to appease the entire world when the reality is that each region has unique definitions of sustainability and natural resources to work with.
Formaldehyde is the most common VOC that pollutes homes and offices. It's in conventional insulation, glues, binders, fabric finishes, flooring materials, vinyl, plastics, fire retardants, wood composites, and especially gloss-type paints. Every product from the green market may meet acceptable standards, but who is measuring total VOCs in a single room?
Thankfully, manufacturers are taking the certification load off of public shoulders. Education is key to consumers, but in a feasible way.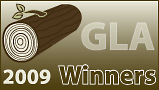 Last month the 2009 GREEN LOG Awards were announced. Recipients were suppliers and consultants with services and products that ranged from insulation, heated subflooring, to countertops and lighting solutions.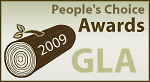 Primary nominations are posted as People's Choice – 2009, where interior designers can fill their green dreams well. Coverings Etc., American Clay and O EcoTextiles are a few examples.
I thank GREEN LOG Home Awards™ for a program that shines a spotlight on innovative green building solutions. It really helps with the greenwash hysteria!
RELATED POST:
Advice from Kim Nadel, Leading "Green" Interior Designer