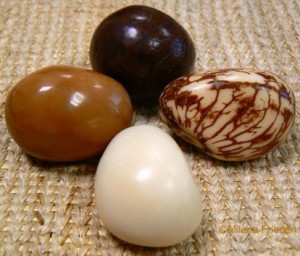 A tagua nut sure has a lot of names. Like The Rain Forest Ivory or Vegetable Ivory. Other titles are Corozo (also spelled Corrozzo), Binroji Nut (Japanese), Steinnuss (German), and Coquilla Nut. A tagua nut is the fruit of a palm tree, primarily Phytelephas macrocarpa, which flourishes in tropical rain forests from Paraguay to Panama.
Natives replant palm trees for their seeds instead of logging them, which saves a bit of the rain forests. They polish the shell of the seeds and typically carve them into the shape of a button, living creature, or beautiful jewelry. Just think: an object much like a gem with all the qualities of ivory, but without harming wildlife.
Where tagua nuts grow high up in South American palms, there are about 40 shelled seeds to a cluster, called a cabeza. Harvesting them appears totally harmless to trees and forests.
Some businesses customize tagua nuts by company contracts. Being a fraction of the cost of ivory, it's not a hard sell. Tagua vendors can toot their horn for indirectly saving elephants, whales, walrus and other species. Humans are so fortunate to have a natural, organic, resourceful product in plentiful supply.
There are other interesting facts about tagua nuts. Twenty percent of all buttons were made of tagua nuts in the 1920's. Ecuador continues to offer tagua buttons and enjoys a thriving tagua jewelry market too.
Stephanie Schiff is the owner of Ecobutterfly in Los Angeles. She offers buttons and beads made from tagua nuts. Check out her bamboo, sustainable wood and recycled glass items as well.
"Like all creations made from a corozo or tagua nut, each button is a little different from the next," says Stephanie. "When it comes to color shading, the nut has swirl patterning that makes colors more varied and interesting. That especially makes these buttons so beautiful and unique."

Be sure to stay tuned for more interesting facts about tagua. How they are naturally processed and colored is fascinating. Bring on your comments and queries.
No matter what you call this lovely ivory-something, designers have good reason to go nuts and save a little rainforest with tagua!
GO Related Eco-button Posts:
Weekend Review Palma Collection Jewelry
Yearn Worthy Yarn Store: Knit For Brains