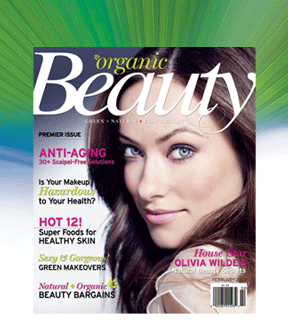 A few weeks ago, Feelgoodstyle.com writer Stancie Wilson told you about Organic Beauty Magazine, the latest and greatest newsstand magazine featuring organic and natural beauty products, fashion finds, and advice on everything from choosing the best products to eco-friendly travel to creating your own at-home spa experience. I caught wind of the plans for this new magazine in the fall and, as you might imagine, I was thrilled beyond measure. About a month later, I had the extreme good fortune of meeting up with editor-in-chief Rona Berg to learn more about the magazine and her plans for its future (and what a smart, inspirational woman she is). The more I heard, the more excited I became, to say the very least. When my copy arrived right before the holidays, I tossed aside whatever I was working on at the time, giddily scanning every page and admiring every photograph, including Christy Coleman's masterful artisty on the cover (featuring House actress Olivia Wildes).
I realize I'm gushing, but at risk of sounding melodramatic, I believe this magazine has the potential to single-handedly place our segment of the beauty industry where it belongs: alongside the major brands heretofore getting all the attention in the major fashion magazine.
To that end, The Nature of Beauty is offering a FREE ONE-YEAR SUBSCRIPTION to anyone who places an order of $99 or more (a $15 value). And yes, you will still get free shipping. Simply enter coupon code "Organic" in the your cart page prior to checking out and we will take care of the rest. You should receive the premiere edition of the magazine shortly thereafter. If you decide not to take advantage of our offer, I strongly recommend that you run to the nearest major bookstore and purchase a copy.