by Jeanée Ledoux
In this ecotravel piece, Jeanee Ledoux describes her visit to Two Bunch Palms in Desert Hot Springs, California.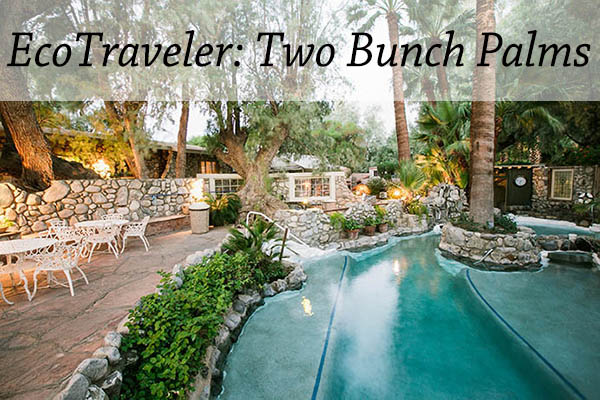 There's another grotto in Southern California. This one is brimming with curative minerals and ringed by a lush garden hosting birds and lizards, not Playboy Bunnies. The stone-lined pool is the aquamarine gem of Two Bunch Palms Spa and Resort in Desert Hot Springs, which has offered therapies using the revered water on its property since the 1940s.
Hef may not soak here, but Two Bunch Palms is popular with the stressed-out Hollywood set and Coachella Valley tourists looking to relax, detox, and heal. The grotto's 100-degree water is rich in minerals in salt form–especially mood-balancing lithium–which are easily absorbed through the skin. Guests can also drink the cooled water from fountains and sign up for aqua-centric spa treatments and classes, such as floating shiatsu, mud baths, and underwater yoga.
People have flocked to aquifers for thousands of years to treat what ails them, be it arthritis or anxiety. In his book Healing Springs, Nathaniel Altman says that "healing effects can include stimulation of the immune system, leading to enhanced immunity; physical and mental relaxation; the production of endorphins; and normalized gland function." Miraculous minerals or not, the Two Bunch grotto is framed by majestic palms filtering the sun, a serene duck pond, and luxurious rooms with private patios, all of which have rejuvenating power.
Guests can be eco-conscious, not just pampered, thanks to sustainable practices introduced by the latest owners, TBP Bliss. The resort's 3.5-acre solar farm provides all of its electricity, the spa uses natural products, and the food is local and organic when possible.
The light-soaked Essense restaurant serves a wide range of cuisine, from all-American burgers to egg white omelets, and the menu has helpful gluten-free, vegetarian, and vegan labels. Diners can admire the mountainous conservation area through the wrap-around windows.
Money-saving room packages that include meals and spa credits start around $250 per night for two adults. Eclectic "vintage" rooms are the best bargains, but a renovated suite with artisanal furniture fit for a star may be just what you need to unwind in this oasis.
67425 Two Bunch Palms Trail
Desert Hot Springs, CA 92240
760-329-8791, twobunchpalms.com
[Photos by Stephanie Brauer]