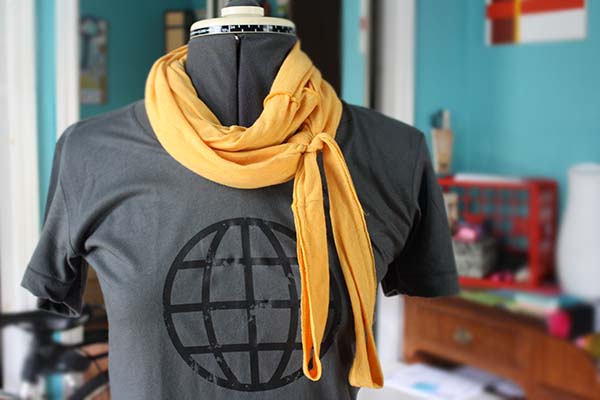 It's officially fall! Time to pull out your cozy cold-weather gear and maybe beef up your fall wardrobe with some new-to-you fall fashion. This assymetrical spin on a t-shirt scarf is easy to make and super comfy to boot!
You only need a few supplies to whip up your own reclaimed t-shirt scarf:
a t-shirt from your closet or the thrift store
scissors
sewing machine or needle and thread
pins
How to make your t-shirt scarf:
1. Cut the bottom seam off of your t-shirt and set it aside – you'll need this in a few minutes!
2. Cut your shirt into thirds horizontally. The first cut should go across from armpit to armpit and the second cut should cut the remaining rectangle in half.
3. You won't need the top part of the shirt for this project, so add it to your scrap bin for another t-shirt craft later on. Take the other two fabric tubes that you cut open one side seam on each. Then, stretch the two long pieces of fabric that result. When you stretch, the jersey will curl, which is completely normal.
4. Pin your pieces of stretched jersey along both short side, right sides together, and zig zag stitch them together along the whole length of that each short side. You're basically turning those two smaller tubes into one large tube.
5. When you're finished sewing, double your scarf over and line up the side seams that you just sewed. Grab the bottom seam of the shirt that you set aside in step one, and tie it around those new seams. You can wear your t-shirt scarf doubled over, like in the photo at the top, or leave it long for a funkier look.