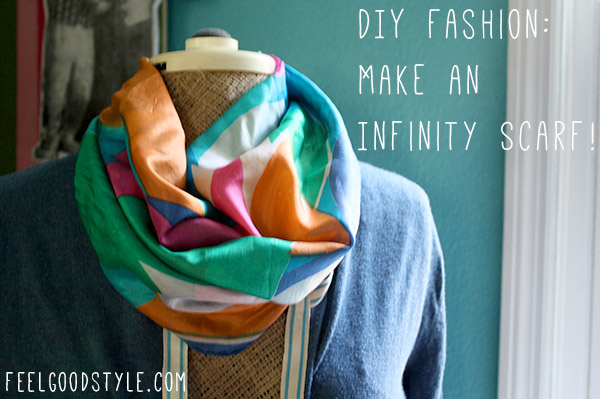 Infinity scarves are super hip right now. Check out this DIY fashion tutorial for turning a thrift store scarf into an infinity scarf.
I have kind of a vintage scarf obsession. My closet is full of scarves that I've picked up at thrift stores and on Etsy. The thing is, I rarely wear them. Tying on a scarf takes me forever while I arrange and rearrange it, so it hangs just how I like. Normally in my rush to get out the door, I end up tossing the scarf on the dresser. A few weeks ago, I pulled out my sewing machine and used my DIY fashion powers to turn an old scarf into an infinity scarf.
The best part? It took 5 minutes.
What I love about an infinity scarf is that it hangs perfectly every time. If your scarf is short, you just throw it over your head, and you're out the door. If it's longer, just loop it to hang as high or low as you want. No weird pointy edges sticking out, nothing to unwrap while you're running errands. Just a cute scarf.
Here's how to make your own infinity scarf in 5 minutes flat!
DIY Fashion: 5 Minute Infinity Scarf
Materials
old scarf
sewing machine, thread, straight pins, iron
Directions
1. Lay the scarf out on your ironing board, and fold it in half. Give it a light press with the iron on low heat, then fold in half again. Press again. You want to fold in half until your scarf is about 6″ wide.
2. Now, fold it in half lengthwise. No need to iron this time, just make sure that the edges of the scarf all line up, then pin them together.
3. For the best results, you want to choose a thread color that blends with your scarf. Sew all of the scarf ends together (see the image below for an illustration of where to sew), turn it right side out – so the seam is facing your skin and not visible – and you're ready to rock your DIY fashion infinity scarf!
All images by Becky Striepe