Looking for new accessories for 2014? Create your own DIY fashion accessories like this stylish belt bracelet!
I've realized something about myself in 2013– I don't wear belts. I don't know what it is, but I simply don't wear them. Luckily for me, I saw this DIY belt bracelet tutorial from Henry Happened and fell in love with the idea. I grabbed my multi-colored belt that was hiding in the back of my closet, and transformed it into a belt bracelet. If you are like me and you don't wear belts, or you just have one that doesn't fit anymore, upcycle it into something awesome!
What You Will Need:
1. An old belt
2. Scissors
3. Recycled felt that coordinates in color with your belt
4. Hot glue/hot glue gun
5. Black permanent marker
How To Do It: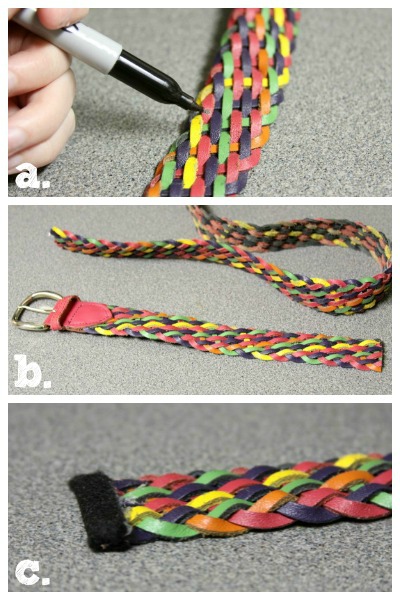 1. Put your belt on your wrist, just like you would put it around your waist. With a permanent marker, mark where you would like your bracelet to end (picture a).
2. Cut off the excess part of the belt (picture b).
3. If you're using a normal solid belt, you can simply cut off the end and make a new hole for the belt buckle using a hammer and nail. My belt was braided, so my steps might be a little different than yours. Originally I thought I could burn the ends of the belt together to keep it from fraying, but it didn't work (and made my kitchen smell bad). I improvised by hot gluing a small piece of felt to the end of the belt (picture c).
Put the belt back on and it has magically transformed into a bracelet! I love the chunky look of the belt buckle and all of the different colors of the belt. If you have a plain belt, you could sew vintage or handmade buttons on it like this button cuff!  If you have a thinner belt, try wrapping the belt around your wrist multiple times like this DIY leather belt bracelet from By Wilma. There are so many DIY fashion possibilities!
If you're looking for more DIY fashion ideas, check out these projects:
+DIY Fashion: Turn a Scarf into an Infinity Scarf
+ DIY Fashion: 4 Ways to Refashion an Old Cardigan for Fall
+Thrift Shopping Tip: 5 Minute Skinny Jeans