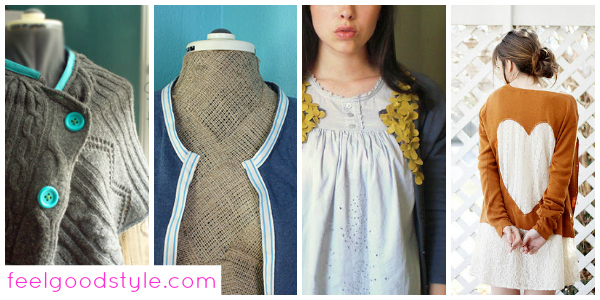 Cardigans are a must-have for fall. Check out these DIY fashion ideas to turn your old cardigans from plain Jane to hip and unique.
Fall will be officially here in less than a week, and that means sweater weather is coming! Instead of buying a new cardigan for your fall wardrobe, how about some DIY fashion ideas to transform one that's already in your closet? We've found some awesome cardigan refashions that range even beginner seamstresses can take on.
Raid your closet or hit the thrift store for a humdrum cardigan, and get ready to give it a fresh new look!
DIY Fashion: Refashion an Old Cardigan
1. Frumpy Cardigan to Cute Capelet
Got a cardigan that's a little bit on the unflattering side? Chop it up to create a totally hip wrap!
2. Lace Heart Sweater

You could wear your heart on your sleeve, or you could wear it on your back. Check out how to add a super sweet lace heart detail to the back of an old sweater from your closet over at Sincerely, Kinsey.
3. Embellished Cardigan
Got 30 minutes to spare? Add a pop of color to a plain cardigan with The Sisters Four! An old t-shirt is a perfect reclaimed source for the no-fray fabric she mentions in the tutorial.
4. Preppy Ribbon Cardigan
A simple spool of organic ribbon and basic sewing skills are all that you need to turn an old sweater from your closet into a cute, preppy cardigan for fall.