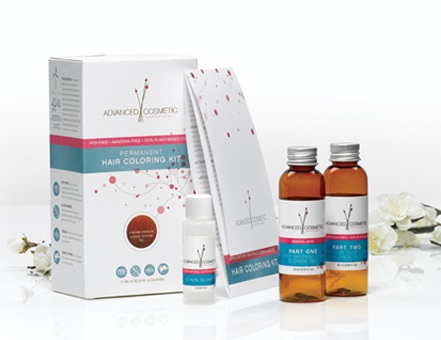 If you're like most women, the aisle lined with attractive cartons of hair colorant has caught your eye at least once.  It's human nature, after all — we want what we don't have.  The allure of all those appealing shades and tints can be mesmerizing. The ingredient list tends to have a mesmerizing effect as well, but not exactly in a good way.  Chlorhexidine dihydrochloride and 2-methyl-5-hydroxyethylaminophenol, anyone?
Even the huge corporations don't completely hide the hazards of the product.  Right there on oustide of the package, in plain view, the manufacturers warn us of the risks — severe allergic reaction and blindness. Of course, they leave out the dirtier details, like the association between hair dye and cancer. How bad is the situation? Well, even the FDA has admitted that "consumers will need to consider the lack of demonstrated safety when they choose to use hair dyes."
Given the evidence, what's a girl to do? Go green, of course — but preferably without literally green results. Fortunately, there is a solution.  I'm delighted to introduce a safe hair dye that actually works!  Advanced Cosmetic Technology's permanent hair color is 100% vegan and plant-based, and is free from paraphenylene diamine (PPD), ammonia, parabens, resorcinol, bleach, and peroxide.
The dye doesn't strip your hair's natural color, which means that you can't use this product to lighten your hair — it'll only work if you're aiming for a shade darker than your current look.  Refer to the color swatch to choose the formula that's best for you.
I tried shade #4MO, chocolate mahogany, on my own light brown hair. I'm not an all-over-color kind of girl, but I do like a bold streak of color now and again to break things up a bit. This dye did the trick, although with mahogany in the name I did envision a bit more of a reddish hue.
Since this hair dye is formulated differently than conventional colorants, don't expect to just comb on the product and sit back while it works on its own to transform your hair.  You'll need to work with the product and apply constant, direct heat from a hair drier in 5 minute intervals over a total of 35 minutes.  But when you consider the alternative — carcinogenic chemicals seeping into your skin — it doesn't really seem like that much work.  While it's true that the color needs some refreshing after 40 shampoos (6 weeks), that's also precisely when the roots start to show their true colors.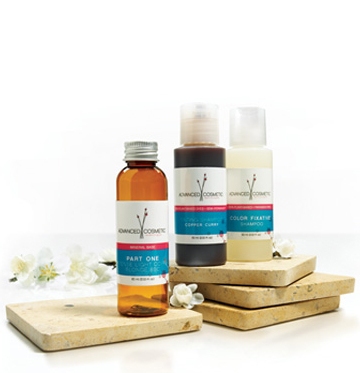 The fact that Advanced Cosmetic Technology (ACT) doesn't shy away from disclosing exactly what's in their product speaks volumes.  They publicly encourage consumers to utilize the Environmental Working Group's expansive Skin Deep database to research the ingredients, which are printed on each carton of hair dye.  ACT has made the ingredient list available online as well.
The company is a proud signer of the Compact for Safe Cosmetics, vowing to abide by the stricter European Union guidelines for personal care products.  You won't find any ingredients suspected of causing cancer or birth defects in this hair dye — and that's guaranteed, since the Campaign for Safe Cosmetics regularly audits the corporations who've signed on.
What's more, the dyes used in ACT products are derived from plants — a renewable resource — so there's no unnecessary strain on the environment.  Advanced Cosmetic Technologies uses vegetable ink and Forest Stewardship Council certified recycled material in their packaging, which is assembled entirely by wind-generated power.
What's not to love?
—
Images courtesy of Advanced Cosmetic Technologies