[social_buttons]
As I jump off the diving board, in a triple flip-touch my toes-twist and turn like pretzel formation, I gaze below me; my eyes fill with the beautiful sight of green, crisp money- aching for my touch. I slide into the fresh bills with very little splash- perfection- and begin to glide through the millions of dollars that belong to me. Tickling my face, caressing my legs, filling my nose with the scent of "no more financial struggle," I smile in glee and bask in the glory of my pool of funds.
Then I wake up.
Looking for incredible one-of-a-kind vintage jewelry this holiday season? Check out Chainchainchained. It's a perfect gift or a way to glam up your holiday wardrobe, not to mention ridiculously AFFORDABLE. (enter loud applause here)
I definitely wouldn't call myself wealthy, nor well off, nor well…financially stable. So, when I say the word "affordable" I darn well mean it. Jewelry from Chainchainchained ranges from $10-$50 while being about as eco-friendly as it gets. That's right, eco-friendly no longer equals expensive. In fact, the more we support eco-friendly companies, products, and small independent designers, the lower prices we will see!
So this glorious holiday, decide to support small designers such as Chainchainchained and make everyone happy- including your wallet!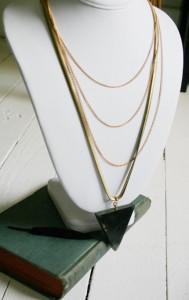 Images Credit: Chainchainchained