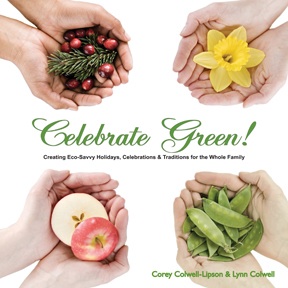 Not like you have to ask me twice to throw a party or give me much of an excuse, but Celebrate Green! ($19), the new book from mom and daughter team Lynn Colwell and Corey Colwell-Lipson, makes me want to host events year round.
Chock full of tips on hosting fun fetes with low to no impact, this book is one of the most comprehensive guides to making a good time green. This book serves as a great reminder going into the holidays (one of the biggest times of year for waste!) what an impact we can make on the environment and offers a number of ways that we can not only cut down on wastefulness but also eat and live healthier for ourselves.
After founding Green Halloween, a program dedicated to encouraging parents to "think outside the candy box" and offer alternatives to sugar and trans-fat laden treats, Corey and Lynn began compiling tips to make each holiday and party a little greener and a little cleaner.
The book is printed on 100% recycled FSC certified paper, and for every book that you purchase through the Celebrate Green! website, you can add a dollar to your purchase to plant a tree through Eco-Libris. A special sticker will come on the back of your book to show your contribution to the planet.
Anyone who likes to celebrate should read this book.
For Related Posts on Green Events: