Want to buy handmade for the holidays this year? There's a new handmade marketplace worth shopping. Meet Remade in Britain.
If you're not DIY-inclined, you can still have a handmade holiday. In fact! The handmade community loves you. Buy handmade this holiday to support makers. Folks who are running a crafty business appreciate anyone who wants to support them, whether that person crafts or not. Crafters love anyone who appreciates the value of handmade.
Related: Thrift Stores for Holiday Shopping: Yea or Nay?
Finding places to buy handmade isn't hard anymore by any means. Between Etsy, Artfire, and handmade markets popping up all over the world, it's easy to find handmade gifts almost year-round. What is trickier is finding handmade wares that align with your shopping ethics. Remade in Britain makes it easy to find recycled and upcycled crafts, so you can buy handmade and support RE-makers while you're at it.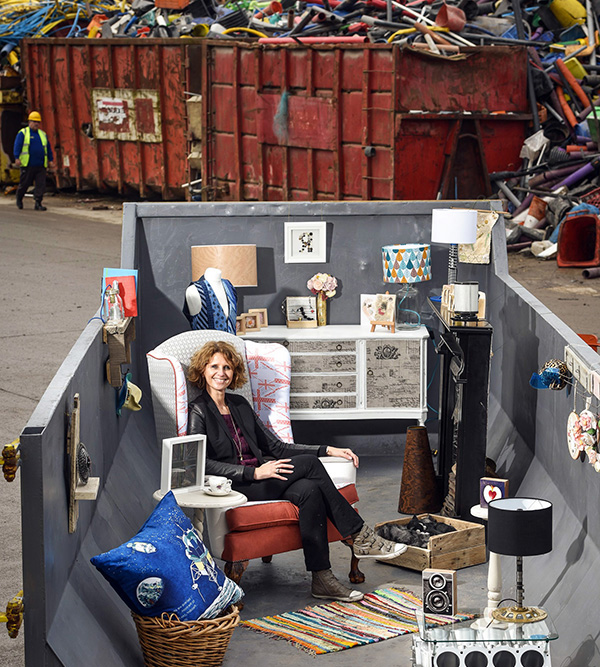 Jeff McIntire-Strasburg over at our sister site Sustainablog wrote a great piece on Remade in Britain. Check it out below!
Holiday Gift Ideas… Straight from the Dump: Remade in Britain
by Jeff McIntire Strasburg, republished with permission
OK, I admit it: I hate Christmas gift shopping. Not because I don't want to give things to my family and friends, but because I just can't handle the energy at the mall or shopping center. It's a lot like a casino: everybody out for a good time, but nobody really having much fun. People are short-tempered, rude, and literally pushy. I don't need that kind of experience, and I'm not crazy about the holiday gift ideas I find at the mall, either.
Yeah, I'd much rather give something unique and fitting instead of something I obviously bought because I felt I had to buy something. The mall really isn't the place to find such things… but with a little clever searching, you just might online. I mean, the world of commerce is at your fingertips: if it's sold somewhere, there's an e-commerce site. The success of sites like Etsy and Artfire speaks to a greater desire for gifts given, received, and even made at a human scale (rather than a factory's). Both of those sites have also seen huge growth in demand for upcycled products: things made from other things. I'm guessing environmental consciousness isn't the only mindset at the center of this trend: upcycling designers create one-of-a-kind pieces. "Unique and fitting" is what they do.
Since the whole world has plenty of trash to go around, it's not surprising to see upcycling-focused platforms aimed at particular areas. The newest entry on the scene (that I know of, anyway) is Remade in Britain. Harrogate, Yorkshire-based entrepreneur Donna Fenn (above) founded the site based on her conviction that
Upcycled products are highly sustainable, original in design and cost reductive so it's no surprise that it's a consumer trend set to grow exponentially in the next few years. The website provides an important platform to champion all the talented individuals and businesses who are already ahead of the curve and leading the way in repurposing unwanted items.
In anticipation of the site's launch, Donna and a handful of the 300 vendors selling through Remade in Britain got together to make a video… in a dump (well, technically a recycling center).
While selling upcycled goods is at the heart of the site's business plan, Remade in Britain was designed as a gathering place for the British upcycling community. Yes, you can buy finished products, but you can also search materials available, or even courses and workshops. And, yes, they have gift suggestions, so you can get a jump on the holiday shopping without going near a mall…
Know of other upcycling sites with a national focus like this one? Point us to them…