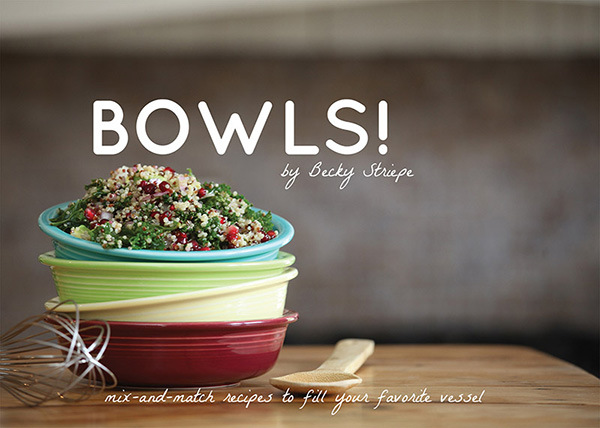 BOWLS! is written by our very own site director + writer, Becky Striepe
If there is one thing all women can agree on it's that mealtime can get monotonous. Shopping for, cooking, and serving the same dishes week after week gets boring, and is often met with less than enthusiastic approval.
The key to solving this issue is some good meal inspo. That's just what Becky delivers in her new book, BOWLS!
Not only are Becky's dishes amazingly delicious looking (her photos are seriously drool-worthy), but come with a nifty approach. Create a satisfying one dish meal with fresh, healthy foods that you have on hand.
Make one of Becky's recipes or create your own. You really can't do this wrong, but Becky's ideas will get you going. Each bowl is built with veggies/grains and protein. You can kick things up with one of Becky's sauces. And we are not just talking dinner here. BOWLS! serves up recipes for breakfast, brunch, and lunch too. Even some soups and stews.
Try this recipe over the weekend:
Superfood Salad

Ingredients for 4 Servings

1 cup quinoa
2 cups water
2 cups kale, chopped into bite-sized pieces
Juice of 1 lemon
¼ cup olive oil
½ teaspoon salt
1 cup pomegranate seeds
1 Haas avocado, chopped
½ cup red onion, minced
¼ cup additional olive oil

1. Cook the quinoa in the water. You can do this in your rice
cooker or on the stove. To cook quinoa on the stove, put the
quinoa and water in a 2 quart pot and bring to a boil. Lower the
heat and simmer for 15 minutes. When the quinoa is cooked,
transfer to the large bowl that you'll be serving your salad in.

2. Meanwhile in a separate bowl, combine the kale, lemon juice,
olive oil, and salt. Get in there with your hands and massage
the kale so it's well coated, and set it aside to wilt for at least
10 minutes.

3. When the quinoa has cooled, transfer the kale mixture,
pomegranate seeds, avocado, onion, and additional olive
oil to the bowl with the quinoa, and toss well. You can serve
immediately or make this salad a day ahead and refrigerate
overnight.
BOWLS! is the perfect holiday gift. Grab one today for those on your list. Don't forget one for yourself too.