Skin as dry as toast?  Maybe it's time to butter it…
Winter can be a nightmare for the skin.  Between the icy whipping winds outside and dry heat inside, patchy skin makes it clear that the snow isn't the only thing with flakes.  Looking in the mirror one day, I realized that my skin was really taking a beating as my face looked more parched than a desert island castaway.  It was time to face it, my usual lotion wasn't cutting it where the Polar Vortex was concerned.
In a desperate tour through my bathroom cabinets I found a tin of Booda Butter that I received several months back in a conference swag bag.  I flipped the tin over to read the ingredients: shea butter, cocoa butter, coconut oil, jojoba oil, and olive oil – all organic.  All of the food grade ingredients were just the kind of stuff that I would put into a moisturizer if I was making it myself, except I didn't have to get out any measuring spoons.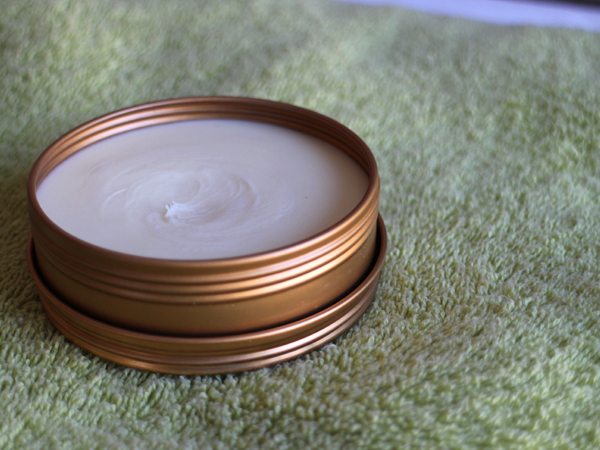 The first thing I noticed when opening the canister was the smell.  Although there's no fragrance in this moisturizer, the smell of cocoa from the cocoa butter shines through.  (I passed by my husband after oiling up.  "Mmm," he said.  "You smell like a chocolate truffle.")
Then I swiped a finger full and watched as the frosting-like texture almost immediately melted into the skin.  On the directions they advise to briefly rub the butter between your palms and then to spread the oil around from head to toe.  Although it goes on oily, it doesn't take long for the skin to absorb the moisture.
Since I've been using Booda Butter, I've noticed a significant improvement in my skin, especially on my face where I'd been having the most troubles.  Gone are those dry, patchy areas on the forehead and around the eyebrows.
As well as being used as a moisturizer, on the Booda Organics website they offer 50 ways to use Booda Butter including on chapped lips, as a deep-conditioning hair treatment, as a massage oil, to heal and preserve tattoos, to smooth frizzy hair, as a make-up remover and more.
Booda Butter is never tested on animals.  It's soy-free, gluten-free, and vegan.  A 2.3 ounce tin is $14.00 and can be purchased on boodaorganics.com or in stores across the United States.
Image Credit: Photos by Cadry Nelson
*Disclaimer: I received this tin of Booda Butter for free in a swag bag, but there was no agreement or expectation to review the product.  The thoughts and opinions are totally my own.
Prefer the DIY route?  Try your hand at making coconut oil lotion at home!