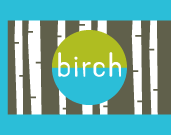 For those of you who have never spent much time in Minneapolis/St. Paul, you may not realize that the Twin Cities are surprisingly progressive – at times, one might even say trend-setting (think Target and Aveda). So it's no surprise really that it was a full seven years ago that Minneapolis saw its first eco-friendly clothing boutique. Since that time, Birch Clothing owners Ellen Gavin and Marti Markus have solidified their reputation as the go-to shop for green fashion in the area.
Now they've taken their business to the Internet, with well-known staples like Patagonia, as well as smaller, lesser-known brands such as Aventura and Indigenous Designs. Best of all, they are offering FeelgoodStyle readers 20% your entire order! To help you get started on your shopping spree, I thought I'd point out a few of my favorite things:
Patagonia Sea Shore Jacket ($85). So well made, and ooooooh so comfy comfy comfy.
Apple & Bee Bowling Bag ($65). It will be mine one day. Even if I have to lift it (just kidding, ladies…mostly).
AnnaBuilt Gold Concentric Earrings ($34). Upcycling is perhaps my favorite design trend ever. Love these unique, gorgeous earrings.
To receive your discount, use coupon code Feelgood at checkout. Offer expires October 15th!