With all the not-so-fun aspects of picking out a new summer swimsuit, it's helpful to know off-hand what the best swimwear brands are for some eco-friendly summer fun.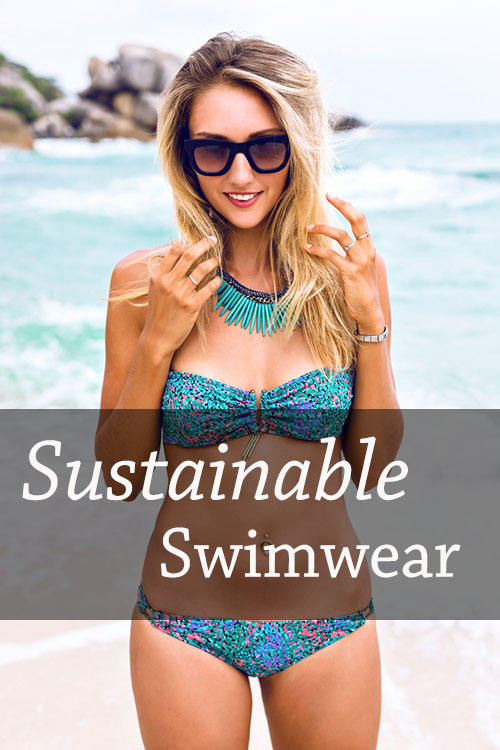 As a Floridian, I spend days in my swimsuit every summer, so it's important for me to find something that's cute, but also sustainable. As we've mentioned earlier, there are a lot of different ways to look at sustainability in the fashion industry, but the main goal is to find something where no people, animals, or trees were harmed in the manufacturing process.
There are a few ways to accomplish that! You can buy fair trade goods to ensure your summer swimsuit was made by fairly-compensated workers, you can buy organic if you value pesticide-free fabric, or you can even find some bathing suits made from recycled materials. No matter which way you go, there are a ton of options. Check out some of our favorites below!
1. ModCloth
ModCloth is a brand we love for a lot of reasons (check out that cute orange cutout suit here!). Not only is their stuff super cute and vintage, but they had an awesome swimwear ad campaign earlier this year, where the brand featured its employees in the ad! Last year, ModCloth signed a pledge that they wouldn't use Photoshopped models in their ads, and the brand took a really cool, personal approach in featuring its own employees in swimwear ads that showed women of all shapes and sizes. Talk about putting the feel-good in FeelGood Style!
2. La Isla
La Isla has some gorgeous swimsuits that are worth the splurge for the style, if not for their sustainable practices. They have a number of people-friendly initiatives, including charity donations, clothing donations, and fair compensation for hand-crafted goods. But they also run their business on solar-powered servers, and their fabrics are certified to be free of harmful substances throughout the manufacturing process. Their style is very southern California, so they have everything from bright and colorful swimsuits to laid-back slouchy tee's.
3. Vitamin A
Vitamin A swimwear is another splurge (as modern, stylish, and eco-friendly goods sometimes can be). But the quality of Vitamin A is really what sets the brand apart from the rest. Favored by celebs, the brand is known for making long-lasting and durable styles that are also timeless. They're known for their "LBB" or Little Black Bikini, as essential as the LBD (Little Black Dress). As far as the sustainability of the materials they use, they don't skimp there either! Vitamin A uses locally produced recycled nylon materials that actually last longer than other bathing suit materials, so you get more wear out of it! And of course, they donate to environmental organizations, because simply manufacturing gorgeous, eco-friendly swimsuits just wasn't enough!
4. Aqua Green
Eco Swim by Aqua Green has more figure-flattering styles that offer better coverage for the more modest beach-goer. A lot of their styles also incorporate strategically-placed ruching, which is always a winner with me! On sustainability, the brand produced everything in the US, and brags that they've reduced their fossil fuel usage by 96.9 percent by manufacturing locally. Pretty much everything they use comes from recycled sources; the tags and labels are recycled, the linings come from recycled plastic, even the fabrics and elastics come from recycled textiles and renewable resources (like coffee grounds). They use non-toxic dyes , and organic materials where they're not already using recycled materials.
5. Koru
Koru is a cool brand that has a lot of activewear in addition to its swim lines.They're partnered with an Italian textile company that also promotes sustainable business practices, which includes using recycled fishing nets to form the nylon yarn that's then used in the swimsuits. They also donate a portion of their proceeds to the company that "harvests" the discarded and forgotten fishing nets that end up being used in their products and a lot of others. This is one brand you can be assured is producing good-quality and sustainable goods! (PS- the suit featured above isn't just a wetsuit, it's got UV protection in it so you can have a physical barrier from the sun, rather than just using sunblock that may wash off during water sports.)
6. Odina
Odina has cute, practical styles for the more active beach goer. The top above is in the oh-so-trendy crop-top style, and doesn't include those pesky ties that string bikinis have that are always coming undone (which is just one less thing you have to worry about in a bathing suit!). They use materials from the same company Koru (above) gets its recycled fishing net materials from, and they also incorporate other recycled materials. All of their stuff is also hand-sewn locally in California.
[Photo of woman on beach from Shutterstock]