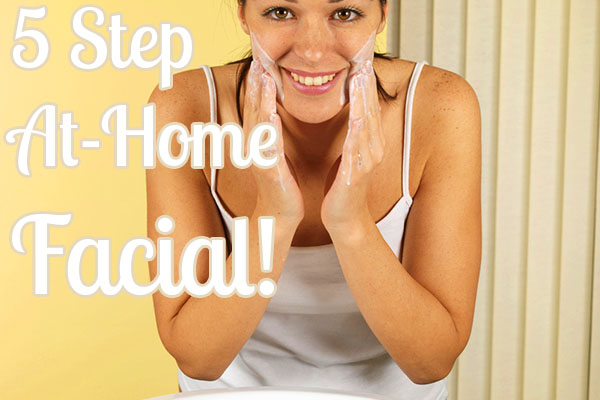 Changing seasons always do a number on our skin, and a facial can help restore balance and give you a glowing complexion, no matter what the season! Check out this 5-step at-home facial!
This infographic from Visual.ly goes through the basic steps for doing a facial at home, and below the graphic we've got some more detailed suggestions – DIY tips and product recommendations – for each step.
Step 1: Washing Your Face

Skip the toxic ingredients that come with most conventional face soaps and opt for an organic facial cleanser, like this one from Acure Organics.
Step 2: Exfoliation

To exfoliate, you just need a good facial scrub. Our sister site, Crafting a Green World, has a great roundup of DIY facial scrubs for all different skin types.
Step 3: Steaming

The steaming step is pretty straightforward. If you want to make this even more fancy, try adding a few drops of a soothing essential oil, like lavender or sage, to the water. Steaming is even better with a little aromatherapy boost!
Step 4: Face Mask
Store-bought face masks can be pretty pricey. Instead of spending big bucks at the big box store, check out these face mask options made from grocery store finds!
Step 5: Moisturize
Just like face soaps, conventional moisturizers can be full of harmful chemicals. Instead, you can make your own face lotion or choose an organic option, like Logona Organic Day Cream.
Do you have a favorite DIY recipe or organic product for any of these steps? Let's swap tips in the comments!
Image Credit: At-Home Facial photo via Shutterstock