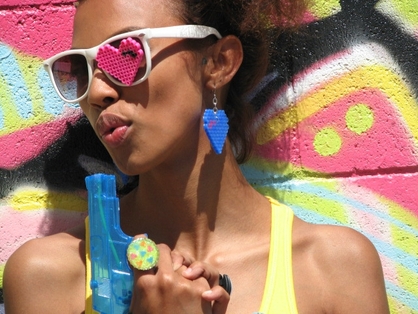 Timmery Turner says her 1981 jewelry line makes three statements: "I'm here. I'm fun. I'm bold."
More than that, her pieces are made from items that aren't usually recycled. Turner makes many of her pieces from toys, and other found objects.
"I think all of my pieces tell some type of story," Turner said. "They're all a true representation of my personality which is fun, wild, expressive, and loud."
Turner's online store features items such as her bottle cap bracelets, made from recycled bottle caps and images set in resin, and her bottle cap rings, filled with everything from tiny dinosaurs to mini hearts. Her "Vroom!" necklaces are made with toy car pendants, and her car bracelets are made exclusively from piecing together toy cars so that, as Turner says, you can, "go old school, and never leave your toys at home."
After creating her own jewelry line, Turner said she set out to help others that were trying to do the same thing she was. Using her own fashion connections and friends, she began the Sugar Art and Fashion show, where she highlights other emerging artists similar to herself. Modeling her show to be what she calls the Cirque De Soleil of fashion, Turner has thrown giant art and fashion parties to expose emerging talent in Los Angeles and Seattle. In 2012, she plans to take her show to eight different cities across the U.S. for the first ever Sugar Does America Tour.
"I started the Sugar Art and Fashion Show to help underground and emerging artists like myself," Turner said. "I find that breaking into the industry can be difficult and can be very expensive at times to do the big froofy fashion shows.  I wanted to created an edgy showcase that connected unseen talent with media, new clientile, other artists, and inspiration.  Sugar is totally differently than any other show out there…I love to encourage freedom of expression to the fullest."
Participate in a Sugar Art and Fashion Show in your city.